OHosti 經銷商託管VPS主機$0.00美元獲取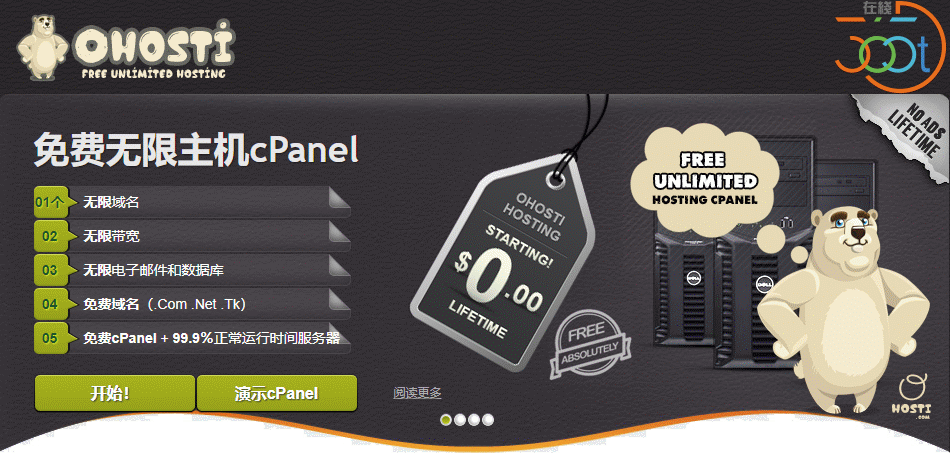 Ohosti自2016年起提供免費共享主機、免費VPS服務器、免費經銷商託管,域名續費至2019年。免費VPS服務器需要推薦積分,推薦積分也就是AFF。服務需要審核,無需信用卡驗證。
免費VPS服務器:
● Solusvm Virtualizor
● CentOS Linux
512MB:.5核心,500GB寬帶,2個IP,20GB儲存,網絡端口100MB(永久,不需要推薦積分);
1GB:1H,1TB寬帶,2個IP,60GB儲存,網絡端口100MB(推薦積分最低$5.00美元);
2GB:2H,1.5TB寬帶,2個IP,120GB儲存,網絡端口1000MB(推薦積分最低$10.00美元);
4GB:2H,2TB寬帶,2個IP,170GB儲存,網絡端口1000MB(推薦積分最低$20.00美元);
8GB:4H,5TB寬帶,3個IP,500GB儲存,網絡端口1000MB(推薦積分最低$35.00美元);
16GB:8H,10TB寬帶,10個IP,1TB儲存,網絡端口1000MB(推薦積分最低$100.00美元);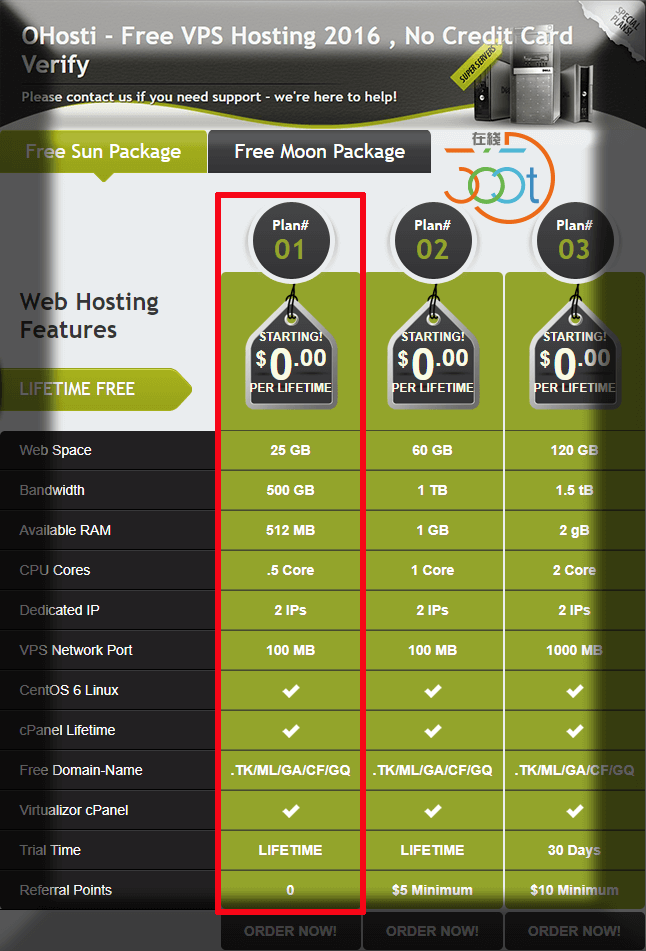 OHosti Free VPS Server Features
● CentOS Linux with Full Root Access(64-Bit With 32-Bit Compatibility)
● Supports:MySQL、PHP、Perl、Python(Django)、Ruby(on Rails)、FFMpeg
● Secured VPS with free IPTables Firewall
● Ability to install and customize applications
● Safe Harbor Certified
● Solusvm、Virtualizor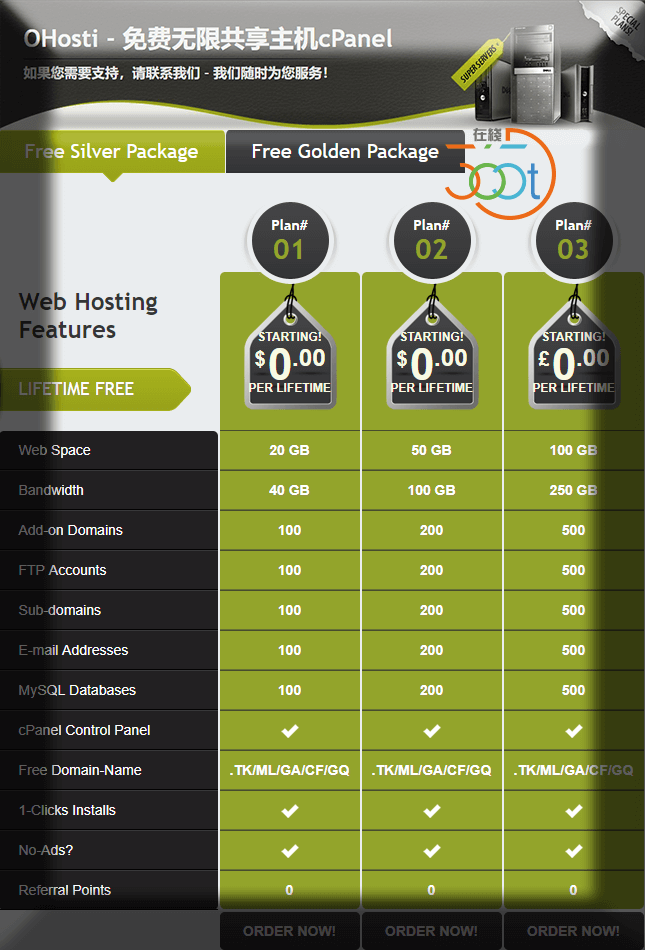 Get a Free Unlimited Hosting cPanel !
● Our shared hosting is great for static websites, database-driven
● content management systems, and custom applications
● Work faster with SSH & develop in PHP、MySQL、PostgreSQL、Ruby、Perl、and Python
● Quickly build beautiful websites with our free drag-and-drop website builder
● Get WordPress, Joomla, or PrestaShop installed for you during checkout
● FREE Domain Name included – $14.99 value!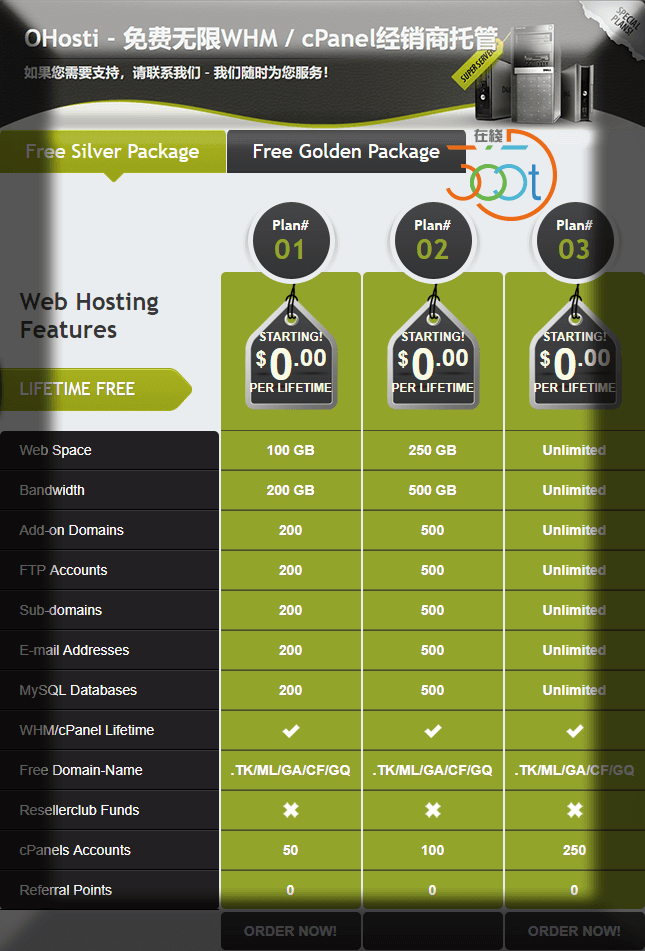 Get a Free Unlimited Reseller Hosting !
● Make Money By Hosting Your Own Clients!
A OHosti reseller plan is a great way for you to earn money on the side, or even become your own full-time web hosting company. Acquire your own hosting clients, or if you\'re a web designer you can use a reseller plan to add value for your existing and future customers.

Why register a Free domain name?
The right domain name is crucial on today's internet. It's the first thing people see when they visit your site, and nothing beats a great first impression. Secure a domain name for your business that sends exactly the right message, with free registration and great service from OHosti today.
Free and paid domains
OHosti is the world's first and only free domain provider. Our mission is to bring people online and help countries develop their digital economy. Free domains work exactly like any other domain name. You can use it for your website, your blog, email account and more! You can choose to run your free domain with URL Forwarding, free OHosti DNS Service or your own DNS (Name servers).

申請地址:點擊進入